Private hikes
in La Gomera
If you want to privatize the hike for you, your family and/or friends it's also possible.
I can advise you and help you to organize your excursions on the island. And of course it will be a pleasure to guide you around the island :)!
How is the tour organized?
Tell me what kind of hike(s) and tour(s) you are looking for, your experience in hiking, your interests… And I will suggest you hikes adapted to your needs
To reserve you can contact me through the form, by phone or WhatsApp.
What does the excursions include?
In addition to guiding you, I will come to pick you up at your hotel if you need it.
Insurance is included. (civil liability of the guide, rescue and hospitalization as a result of an accident that occurred during the walk).
How to choose your walk?
There are an endless hikes on the island. So, I'm sure if you tell me a bit about what you are looking for, I will be able to advise you on the best hiking tours for you on the island.
2 types of walks:
– One hike per day: ideal for hikers who want to fully enjoy nature and minimize time in a vehicle.
– "Combo" of several hikes: perfect for people who want to hike at an easy level, take their time, discover the great variety of landscapes of the island and have a lot of information to better understand and feel the soul of the island : ). In one day we will do 2 or 3 small walks. In case of bad weather, I can modify or cancel the excursion initially planned. "
Prices:
Prices include certified guide, insurance and transportation.
For more than 4 people, ask for a quote
* Levels of hiking:
Easy: between 1 and 3 hours, maximum slope 200 m
Intermediate: between 3 and 5 hours, Slope: max 600m
High: between 4 and 8 hours, Slope more than 600 m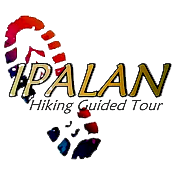 General tourist registration
Intermediador turistico I-0004482.1 Turismo Activo TA-6-0006344.36