Ipalan is a small hiking agency located in La Gomera.

We are dedicated to guiding curious travelers on the trails of La Gomera. "Guiding" is much more than showing the way ... it is above all sharing our knowledge and our love for La Gomera with nature lovers, and travelers in search of authenticity ...
Low and Medium Mountain Guide
Official Tourist Guide of the Canary Islands
I am the manager and guide of Ipalan. I created the company in 2014.
Depending on the activity, I can work alone or be supported by other guides.

I love to travel ...
I had the chance to visit several countries in the world but La Gomera touched me like no other place. I discovered this island in 2007 and I fell in love immediately! We followed our intuition and we moved with our small family to La Gomera. A radical change and the best decision of our life!
Years go by, and my passion for this island has only increased. The beauty of the landscapes, the friendliness of its inhabitants, the serenity of the place, its culture ... still amaze me every day.

It is always a pleasure for me to be able to share this passion with nature lovers from all over Europe and the world. My goal is to make my adopted island feel, understood and appreciated with travelers!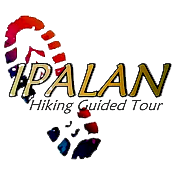 General tourist registration:
Intermediador turistico
I-0004482.1
Turismo Activo
TA-6-0006344.36