La Gomera and the Canary islands:
The best climate in the world?
Thanks to a privileged geographical location and the influence of the trade winds, the Canary Islands enjoy spring temperatures throughout the year that vary slightly from one season to another at sea level.
Where to stay depending on the weather?
According to some studies carried out by universities and climate experts, the climate of the Canary Islands is considered one of the best in the world. But you have to keep in mind that there are many microclimates on the island. The weather varies a lot from one place to another depending on the slope and the altitude. North / South: the trade winds affect the north of the island. That creates a sea of clouds on the north side of the island and also a lot of waves on the northern beaches. So if what you are looking for is sun and beach, it is better to go to the south near the sea (San Sebastián, Playa Santiago or Valle Gran Rey). But if you are looking for traditional areas, with more vegetation, little tourism and/or cooler (especially in summer), the north or the towns in the midlands are the ideal places to stay. La Gomera is a mountainous volcanic island. When we move away from the sea, we go directly up in altitude. It is cooler at altitude than at sea level. 1 degree is lost every 200m.
Climate San Sebastián de La Gomera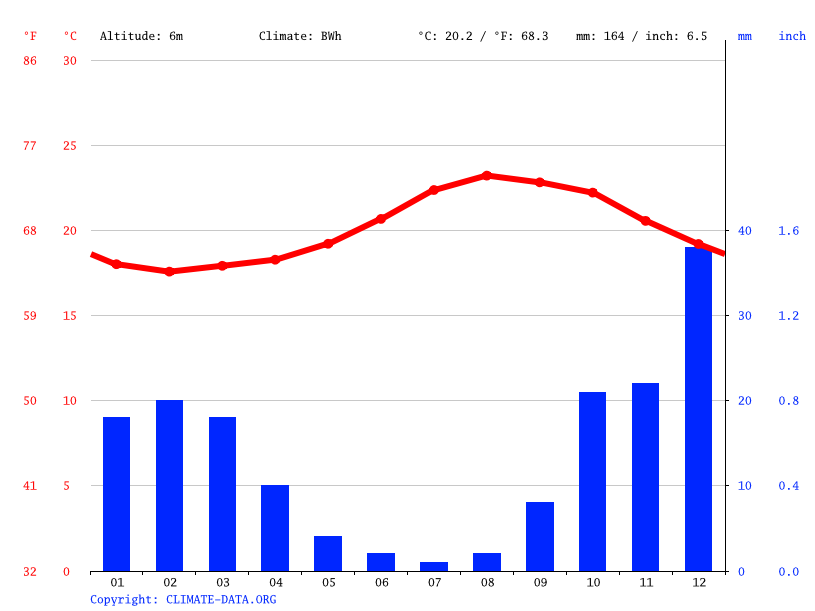 The climate of San Sebastián de la Gomera is desert.
The average temperature is 20.2°C and the rainfall is 164 mm.
Summer begins at the end of June and ends in September.
Maximum temperature: August with an average temperature of 23.2°C,
Minimum temperature: February with an average temperature of 17.6°C.
Between the driest and wettest months, the difference is:
– in rainfall: 37 mm
– temperature: 5.6°C.
Températures (air) and rainfall San Sebastián de La Gomera
Water temperatures San Sebastián de La Gomera