Hiking group tours
in La Gomera
I suggest you come and discover the island with me!
I am at your disposal to advise you and help you organize your excursions on the island. And of course it will be a pleasure to guide you around the island :)!
How is the tour organized?
– Customized hiking tour: Group  of 4 to 7 people. You can sign up for an excursion already planned or plan an other one. If there are only 2 or 3 people in the group, the excursion could be maintained (if the participants wish) with a supplement of € 10 / person.
To reserve you can:
– book a hike from the list on this page ("Book a hiking tour"). If you want to privatize the tour, you can choose the option "in private".
– contact me through the form, by phone or WhatsApp.
What does the excursions include? 
In addition to guiding you, I will come to pick you up at your hotel if you need it.
Insurance is included. (civil liability of the guide, rescue and hospitalization as a result of an accident that occurred during the walk).
How to choose your walk?
There are an endless hikes on the island. So, I'm sure if you tell me a bit about what you are looking for, I will be able to advise you on the best hiking tours for you on the island. In order to, to help you get an idea of the possibilities, below I put a non-exhaustive and indicative list of the walks that are my favorites.
2 types of walks:
– One hike per day: ideal for hikers who want to fully enjoy nature and minimize time in a vehicle.
– "Combo" of several hikes: perfect for people who want to hike at an easy level, take their time, discover the great variety of landscapes of the island and have a lot of information to better understand and feel the soul of the island : ). In one day we will do 2 or 3 small walks. In case of bad weather, I can modify or cancel the excursion initially planned. "
* Levels of hiking:
Easy: between 1 and 3 hours, maximum slope 200 m
Intermediate: between 3 and 5 hours, Slope: max 600m
High: between 4 and 8 hours, Slope more than 600 m
Hiking group tours planned
You can join these dates or plan a new hiking tour another day.
If you are the first people to book you can choose the hiking tour in the list below.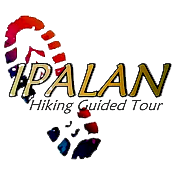 General tourist registration
Intermediador turistico I-0004482.1 Turismo Activo TA-6-0006344.36